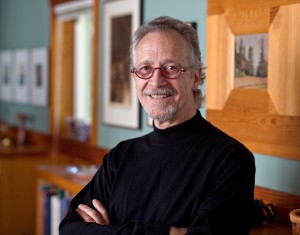 Art Grice
Art Grice is an architectural and fine arts photographer based on Bainbridge Island, WA.
He has been involved with photography and the arts all his life. In his younger years he mostly worked in illustration and fine art photography. He has also designed and built houses, furniture, and boats, but the tools of photography have always been first and foremost.
Art has taught photography classes and workshops at the University of British Columbia, Vancouver School of Art, NW College of Art, and other venues.
Some career highlights include a grant from the Canada Council for the Arts to explore 3-D photography (1975). Art juried "Exposure" a traveling photography exhibit and book with the Art Gallery of Ontario. He worked as the art editor for Exhibition Magazine from 1991-2003. Art was also a founder and director of VIEW, a non-profit arts education organization, which produced the "Great Photographers Lecture Series" in Vancouver, BC and Seattle, WA.
His photography and design work have been shown and published in books and magazines throughout the world.
Art is primarily working on his own photography projects now, but occasionally photographs architecture and artwork for clients.
Contact info:
Art Grice
Bainbridge Island, WA USA
Contact